It was hot – not only the sun, but also the girls heated up the "Pannoniaring-asphalt"!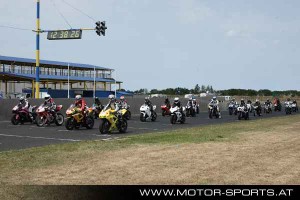 The idea arose at the "Bikermesse 2011" in Linz. Biker Beate Kloda (from the "Motorrad-Magazin", Michael Fiala (from Fiala Motorsports) and the www.speedladies.com team started with the preparations for the first Ladys-Trophy on the Pannoniaring.
24 biker girls followed call. Everyone was there – young and old, from rookie to pro and from nakedbike to sportsperson. To make it short: it was a special class event and unique not only for the girls who took part, but also for the watcher.
On the first day the Motoacademy showed the novices how to drive on the race track. Ideal route, break and indication techniques were practiced. Different classifications allowed even experienced race track bikers to improve their lap time. In the evening you were able to see many happy and proud faces, as the race track training requires a lot of bravery.
On the next day everyone was counting the hours and looking forward to the start of the the highlight of this 2-day event, the "Ladies-Trophy". 24 biker girls were at the start and waited for the light to change.
Already after the first round you could see who was going to lead the race. The area got split into 3 groups, whereas the fastest round was 2,02 and the slowest 3.32.
After 6 rounds the Slovenian Tina Katrasnik (class to 600cm) came in first place, followed by her sister Manca Katrasnik and on place 3 was Timea Vaslaki from Hungary.
In the class over 600cm, the Austrian Christina Nohel came in before the Hungarian Rita Fidler and on place 3 was the Dutchwoman Vivian Sigterman (who had the longest journey of 11 hours to the Ponnoniaring!!!)
The lucky winners were very happy about the prices. Also under all participants special prices were drawn eg. a BMW bike according to choice for one year, a VIP-weekend for the IDM at the new Redbull race track.
A special THANK YOU from us to all sponsors and organisers of the Ladies Trophy: Motorradmagazin, BMW-Austria, UVEX, Fiala Motorsport and Werbeargentur.
Further we would like to THANK all the participants and hope to see you again at the "Ladies Trophy 2012". An expansion of 2-3 events is already in discussion… we will keep you posted on our homepage!
There is nothing more to say than: See ya at the race track!:)
Further a detailed report about the "Ladies Trohpy 2011 can be found in the "Motorradmagazin" issue 09/2011 (available in stores from 8th of Sept 2011).
A further report can be found at bmw.at